A special dinner party of "Les Memories de Marie Antoinette" was promoted by The Ritz-Carlton, Osaka on an auspicious day of March, 2010.
The very taste and esprit of Bourbon époque and the Court was reappeared with roses. Limited tickets for 30 persons were sold immediately after word of mouth announcement was released by the hotel without any brochure.
The banquet room, called "Garden room", was decorated with roses just like the Court of Bourbon époque. As Shamayim rose gallery had an opportunity of decorating preserved roses, we really appreciate for kindness of everyone, for support to us.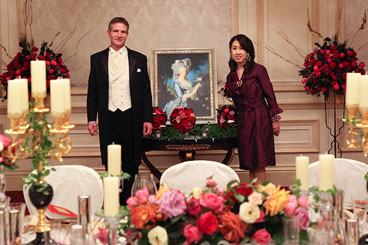 Together with General Manager, Mr.Neukomm Mark