Atsuko Furukawa,the owner of Shamayim Rose Gallery was invited to Houston by the Consul General of the U.K .and his wife ,Mrs.Yoko Lynch to provide elegent preserved rose arrangements for their residence.
Also ,Ms. Atsuko Furukawa decorated the salon of Mrs. Joanne King Herring's apartment, Sheis the most gorgeous, beautiful, elegant
Houstonian with compassion and generosity, who is being portrayed by Julia Roberts in the movie "Charlie Wilson's War" in 2007".
and She has organized countless charities so far.

Ms.Atsuko was intreveiwed by The Houston Chronicle.in the salon of Mrs. Joanne King Herring .

For people who are reading the interview in The Houston Chronicle
We will be offering a selection of 5 different preserved rose arrangements, including those pictured below, with only 20 of each available at this time. 

The deadline for ordering is July 14, 2009, If you are interested in placing an order, please visit the websites listed below, Visit the Shop Page 1 and fill out "the contact page.

We will acknowledge receipt of the contact page.
Payments should be made by check only. Ms.Furukawa will make your arrangement in Houston .The ordered flowers will be delivered to you after July-21 on a first come, first served basis. Preserved flower  "preserved" means "to last long, keep long" After removing the moisture and resin from the flowers, picked in the prime of their beauty, the flowers are dipped in a preservative, pigmented solution which is completely safe for humans. Unlike dried flowers, these preserved blooms will last for 2-3 years.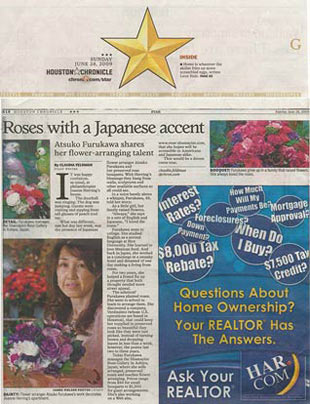 The Article in The Houston Chronicleg
with the wife of Consul Genaralof U.K.
in Houston. Mrs.Yoko Lynch

with Rose of Sapphire

wirh Rose bag
The Article of WEB site in The Houston Chronicle
"Rose of Sapphier" to donate for the society of Pet Protection