Welcome to La vie en ROSE SHAMAYIM ROSE GALLERY WEB SITE.
We deliver the latest rose-colored news.
LUNCH PARTY WITH PRESERVED-ROSE
& ROSE ESSENCE BY SWISSZERLAND

Mrs.Takeko Hartenbach, wife of the Consul General of Switzerland held Lunch Party at thier official residence with Preserved Rose Arrangment and Rose Essence by Switzerland. All of gusts enjoyed wonderful lunch.
After lunch there was the demonstration of preseved Flower Arrangment and Rose Essence of Givaudan fromSwitzerland by Atsuko Furukawa. we spend such a rosy afternoon time togeter .

"ランチパーテイー"
スイスの薔薇の香りとプリザーブドフラワー
スイス総領事夫人武子様主催のランチパーテイが 総領事官邸で行われました。素晴らしいランチの後プリザーブド フラワーとスイスジボダン社のローズの香りのデモストレーションが行われ 皆様と薔薇色のひとときを過ごした午後でした。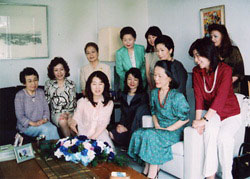 Commemorating Italy's National Day
On June 2 to Commemorate the National Day of Italy,Italian Consul General in Osaka Mr.&Mrs Zanini held a receptionin Osaka.
we celebrated the Day and spend such a beautiful rosy time there.
And Conguratulation for Win "2006 FIFA World Cup"!!!
Evening with English Rose

On 22 June , Suported by British Consul General ,Mr.Paul Lynch and Mrs. Yoko Lynch there was held "Evening Party with English Rose" we enjoyed traditional British Garden and rose themed desserts. Mrs. Yoko Lunch has a beautiful rose Bag Bouquet by Atsuko Furukawa. Yoko is like a new rose Queen of British in that night!

That Mrs.Yoko's Rose Bag Bouque was published in Preseved Flower Magazine "Pre Fla "Vol 8 ,P56. Samayim Rose Gallery information and Atusko's Arrangments wrere published in "Pre Fla "Vol 8 P96, P138, P158.and anoter bautiflu Flower Magazine"Best Flower Arrangment "2006 Autumn P267,P285, (School Guide Book P41) by Four seaonspress Co,LTD .
『"Pre Fla "Vol 8』
『"Best Flower Arrangment "2006 Autumn』