Shamayim Rose Gallery decorates main stage of HANA SACAS in front of Akasaka Sation in Chiyoda Line 
and a booth of TBS TV programs of Friday with preserved blue roses for event of HANA SACAS at Akasaka SACAS which promoted by TBS
from 20th, March to 20th, April, 2009. The booth is located in Atrium 1F next to escalator, of the Akasaka Biz Tower.
we wish to preserve the blue sky and the earth for ever!"Atsuko design "Rose of Sapphire" with preserved blue roses.

During the event, you will enjoy stamp-rally which is visiting seven booths of TBS TV programs from Monday to Sunday, and also special events like Merry-Go-Round and so on. We would appreciate it if you would visit Akasaka Sacas and our booth to enjoy one moment with vernal breezes with blue preserved roses.
"Rose of Sapphire" and English Victorian CandleStick with roses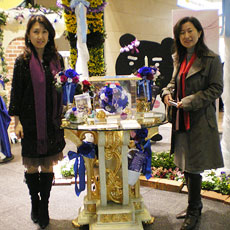 with "Rose of Sapphire"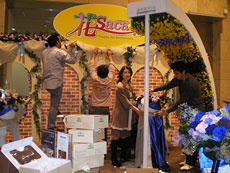 making Flower Stage